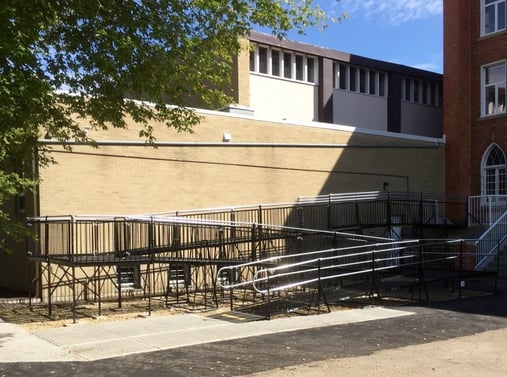 Amramp Alberta Canada Provides Barrier Free Access to Historic Friary
Lorne Wensel and #Amramp Alberta has just completed a 107-foot #barrierfreeaccessramp on the historic #St.FrancisofAssisi Facility. This was the original friary for the Franciscan Order in #Edmonton. The historic 1925 building features Gothic-arched windows on the ground floor and a metal cornice around the roof line.
The building has been renovated and re-purposed by the John Bosco Child and Family Services Foundation. The foundation provides suitable facilities for not-for-profit organizations, assisting them in providing human services to individuals and families, whom -- through no fault of their own -- are struggling with many challenges.
The building now has a barrier-free access ramp and will also have a new interior elevator. Once all the renovations and upgrades are completed, not-for-profit organizations will be using it for office space.
Amramp Alberta was proud to work on this historic Alberta structure and honors the foundation's support to the Edmondton community and beyond.
Buy or rent expert-installed wheelchair ramps.
Call Amramp today to schedule a free on-site estimate
Please contact Amramp's National Customer Service Center 888-715-7598